Join us on Sunday February 9, from 2-5 pm for the opening of Layered Beyond: An Augmented Reality Art Exhibit featuring 12 top AR Artists.
About this Event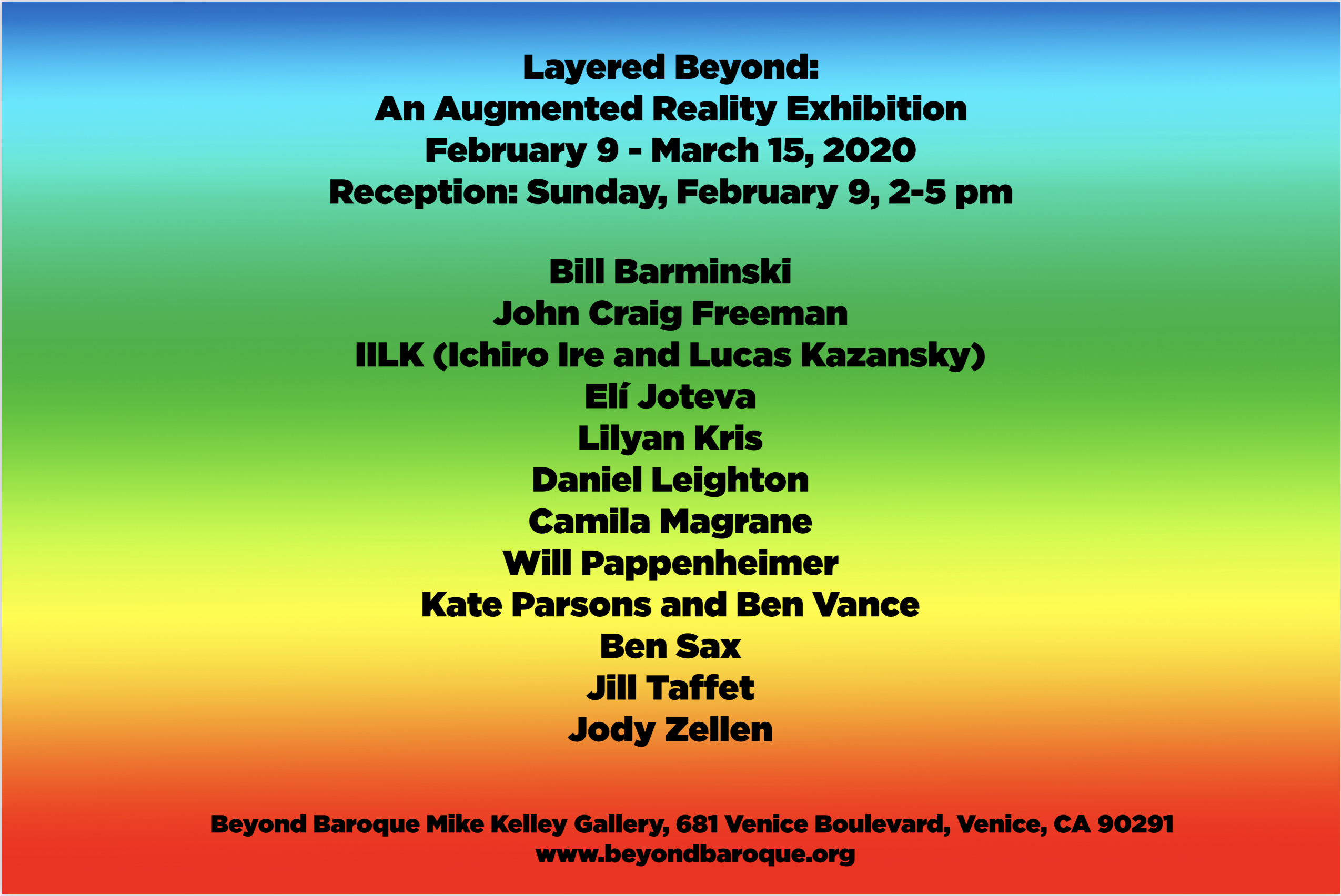 Join us on Sunday February 9, from 2-5 pm for the opening of Layered Beyond: An Augmented Reality Exhibition. Many of the artists will be on hand to present unique works that intergrated augmented reality into the viewing experience. Augmented Reality is a technology that superimposes computer-generated content on a user's view of the real world– in this case works of art– thus providing a composite view and an enhanced experience. Viewing devices loaded with the software will be on hand as well as QR codes to download the different applications to viewer's personal devices. The artists include: Bill Barminski, FLOAT (Kate Parsons and Ben Vance), John Craig Freeman, IILK (Ichiro Irie and Lucas Kazansky), Eli Joteva, Lilyan Kris, Daniel Leighton, Camila Magrane, Will Pappenheimer, Ben Sax, Jill Taffet and Jody Zellen.
Bill Barminski is best know for work in several mediums that include cardboard sculpture, advertising derived paintings and video animation. His cardboard sculptures of everyday objects such as shoes, spray cans and furniture are usually painted white and outlined in dark brown paint that capture a sense of 3 dimensional drawings. The best example of this style was the interactive Security Theater that served as the entrance to Banksy's Dismaland in 2015. Before turning his attention to sculpture in the early 2000s, Barminski was well known for his paintings that explored themes surrounding consumerism and advertising. Barminski has also worked creating animated music videos for artists such as Gnarls Barkley, Kid Cudi and Death Cab for Cutie. Barminski, who is a primarily self taught artist, has had over 20 solo shows since 1986. He lives in Los Angeles, California, works in a garage studio and has been teaching digital media in the Department of Film and Television at UCLA since 1998.
FLOAT is a collaborative entity focusing on media art and interactivity. Founders Ben Vance and Kate Parsons work together to create evocative, nuanced art experiences that push the boundaries of process and technique. Their work has shown with Vulcan Inc., Marina Abramovic's Acute Art VR Platform, and at prestigious locations such as SFMOMA, Art Toronto, Sundance Film Festival, SXSW, and TIFF. Their work has been featured in Art News, the LA Times, CBC, BBC News, Flaunt, Hyperallergic, and more. Collaborators and clients include Petra Cortright, United Nude, GitHub, and Tony Hawk. Their latest work, Screensavers, can be found on internet gaming platforms Steam, Oculus, Itch.io, and Viveport.
John Craig Freeman is an artist with over three decades of experience using emerging technologies to produce large-scale public work at sites where the forces of globalization are impacting the lives of individuals in local communities. With his work, he seeks to expand the notion of public by exploring how digital technology and mobile networks are transforming our sense of place. Freeman is a professor of New Media Art at Emerson College in Boston. Freeman's contribution to the Layered Beyond exhibition is Fossil Fueled a world-scale augmented reality experience which includes a collection of virtual gas pumps, dating from the 1920s to the 1970s representing the history of fossil fuel consumption. Some have become unmoored, spinning in midair.
IILK (Ichiro Irie & Lucas Kazansky): IILK is a collaborative media-art partnership comprised of artists Ichiro Irie and Lucas Kazansky. They have exhibited at Titanik Galeria in Turku Finland; Joshua Treenial in Joshua Tree, CA, Arena 1 gallery in Santa Monica, CA, Orange County Center for Contemporary Art in Santa Ana, CA and eitoeiko gallery in Tokyo, Japan. Irie is an artist, curator and educator who was included in the Pacific Standard Time initiative "Transpacific Borderlands" at Japanese American National Museum in Los Angeles, CA, and the traveling exhibition "To Travel with Glasses" whith iterations at prominent museums in Japan including Aomori Museum of Art in Aomori, Japan. Kazansky currently works as R&D Technical Artist Hybrid at Niantic, and previously as Senior Designer at DAQRI.
Elí Joteva is a Bulgarian born visual artist and researcher working at the intersection of fine arts and science through the use of new imaging tools and biofeedback technologies. With a practice rooted in photography and new media, her work often aims to to expand the intangible experience of the human and non-human body. The core of her current research explores biological and technological memory systems in relationship to imaging processes of the past and future. Joteva earned a BA in Fine Arts from USC Roski in 2013, an MFA from UCLA Design | Media Arts in 2018 and attended the New Normal post-grad research program at Strelka in 2019. She has exhibited solo shows in North America, Europe and Australia.
Lilyan Kris is an artist and technologist who uses software "incorrectly" to invent alternative interfaces for our bodies when mainstream technologies fail us. Lilyan's works have been featured in group shows at museums and festivals in the United States, including the Hammer Museum, Indiecade Festival, Different Games Conference, and CultureHub Los Angeles. They've taught workshops at Pepperdine University, Navel, Tiny Tech Zines, and Glendale Tech Week. Lilyan holds a BA in Design Media Arts from UCLA, where they co-founded voidLab, an LA-based intersectional feminist collective for women, trans and queer people.
Daniel Leighton is an Augmented Reality artist, iPad painter, filmmaker, and technologist who started programming at the age of eleven. Having Crohn's Disease since birth, Leighton faced his mortality from a very young age. Countless invasive procedures, hospitalizations and surgeries helped drive him to dive deep into a lifelong quest to understand the workings of his body and his emotions. He creates emotional portraits with simple lines and brilliant colors to capture complex states of the human psyche, while exploring the possibilities of technology and human emotion being harnessed for the greater good. Leighton graduated cum laude from UC Berkeley and has presented/exhibited at the San Luis Obispo Museum of Art, Victoria and Albert Museum in London, the LA Center for Digital Art, and has been featured by Timothy Potts, Director of the Getty Museum in Los Angeles, as well as, curators from MoCA and LACMA.
Camila Magrane is a multimedia artist originally from Caracas, Venezuela. Having a father from the us and a mother from Venezuela, she grew up alternating between both countries. Being fully exposed to two different cultures gave her a greater understanding of what it means to have various perspectives. Most recently, Camila has been exploring the involvement of technology and interactivity in art. This has driven her to obtain a bachelor of science in computer science with a concentration in game development. She continues to hone her skills as a creative coder through the creation of interactive videos, installations and games. She has been most noted for the creation of her "digital photogram collages" where she has established a postmodern aesthetic by combining traditional darkroom techniques with the use of digital tools.
Will Pappenheimer is a Brooklyn based artist working in new media, performance, video and installation with an interest in shifting virtual and physical spatial and object relations. He is a founding member of the Manifest.AR international collective which focused on locational augmented reality as a form of situational or institutional intervention. His work has been shown at Whitney Museum of American Art, LACMA, Los Angeles; San Francisco MOMA; Stedelijk Museum in Amsterdam; FACT, Liverpool, UK; Contemporary Istanbul Art Fair, Istanbul; Fringe Exhibitions in Los Angeles; the ICA, Boston; the Museum of Fine Arts, Boston; the Corcoran Gallery of Art in Washington; FILE, Sao Paulo, BR; Turbulance.org; The New Museum and the 2017 Moving Image Art Fair in New York. The artist's works have been reviewed in Christiane Paul's historical editions of "Digital Art," Art in America, New York Times, Hyperallergic.org, Bloomberg TV, WIRED, EL PAIS, Madrid, and Liberation, Paris. He teaches new media at Pace University, New York.
Ben Sax is an interactive artist, patented inventor, and storyteller based in Los Angeles. He's the founder of Perceptoscope, an interactive public arts initiative devoted to engaging people with the places around them through interactive sculpture and immersive public media. He recieved his BA from Wesleyan University (2007) with a double major in Film Studies and Philosophy, with additional focus in interactive art, installation, and experimental music. He was the inaugural Artist-in-Residence at the SupplyFrame DesignLab, an Arts for LA ACTIVATE Cultural Policy Fellow, and a National Arts Strategies Creative Community Fellow. His documentaries have been aired on public television and incorporated into museum exhibitions. As an Arts Scientist, his prototyping and field research have been supported by the Knight Foundation and the National Science Foundation.
Jill Taffet is a time-based artist who mixes traditional drawing and painting with new technologies. Her immersive large-scale video installations, motion paintings, and new media projects have been exhibited nationally and internationally. She received her BFA from Cooper Union in New York City and her MFA from San Francisco Art Institute. Currently she is faculty at Ringling College of Art & Design.
Jody Zellen is a Los Angeles based artist who makes interactive installations, mobile apps, net art, animations, drawings, paintings, photographs, public art, and artists' books. She constantly thinks about ways to use new technologies and to integrate interactivity into her artworks. Zellen received a BA from Wesleyan University (1983), a MFA from CalArts (1989) and a MPS degree from NYU's Interactive Telecommunications Program (2009). She has been exhibiting her work locally, nationally and internationally since 1989.
Related show