Media Inquiries: contact Heidi Johnson, HiJinx PR @ 323.204.7246 or heidi@thinkhijinx.com.
PROGRAMMING + ART = A NEW WAY TO EXPERIENCE CREATIVITY: AUGMENTED-REALITY ARTIST & DIGITAL PAINTER TEAMS WITH APPLE, LIVE IN SANTA MONICA
Euphoric, humanistic, equal parts primal and futuristic: Daniel Leighton's augmented-reality iPad paintings tumble along before the oncoming wave of cutting-edge developments merging tech and art.
3rd STREET APPLE STORE, SANTA MONICA
JANUARY 21, 2015 | 7:30PM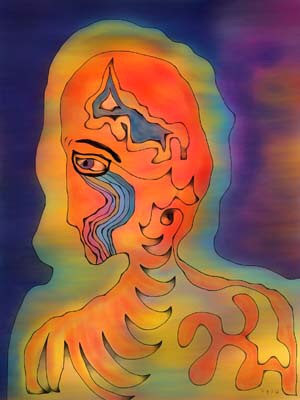 FOR IMMEDIATE RELEASE
January 14, 2015 – On January 21st at 7:30 PM, Apple's high-volume 3rd Street Promenade store in Santa Monica, CA partners with pioneering iPad artist & programmer Daniel Leighton to experience art through the futuristic lens of "The Cloud."
Come along as Leighton combines art, tech, film—and a profound understanding of the human condition; and geek out as he shares tricks of the tech-art trade!
Using the Daniel Leighton Art + AR App (which he created in late 2013/early 2014), Augmented Reality is a technology combining Daniel's backgrounds in filmmaking and computer programming with his paintings.
With the app, viewers can engage with Leighton's AR-enhanced iPad paintings in a fourth dimension of experience: merging the digital information cloud that "virtually" surrounds us all with the here-and-now of physical works of creativity.
Leighton's presentation will include an artist talk discussing the tension and drama in his work, a demo of his AR app, a walkthrough of the apps he uses to paint, and a Q&A session. Large format, archival, museum-quality fine art prints of Leighton's work will also be on display.
Leighton's work merges the science of his artistic process with the compelling personal journey that drives him to make art. Diagnosed with Crohn's Disease, faced with his mortality since childhood, Leighton's profound imagery taps into the viewer's own emotional landscapes. Apple has provided the tools to facilitate Daniel's artistic and technological journey since he got his first computer in 1981 at the age of 11: the much-beloved-by-a-generation Apple II Plus.
Also a blogger for the Huffington Post and a digital app programmer, Leighton joins the ranks of Anna Kendrick, Reese Witherspoon, and James Franco–multidisciplinary creatives who have all spoken recently at Apple stores. In recent years, iPad Art has increasingly become accepted thanks to recent exhibitions by David Hockney at London's Royal Academy of Art in 2012, Guggenheim Bilbao, and other international outposts.
ABOUT DANIEL LEIGHTON
Daniel Leighton is a Los Angeles- based contemporary artist whose work tells stories of captured emotions. He uses cutting edge technology to create art that delves into the deepest parts of the human psyche. Art critic Shana Nys Dambrot calls Daniel's paintings "luminous" with "a quality of rawness and intensity that is both visual and emotional." Leighton's Augmented Reality work has been gaining popularity and was selected by Timothy Potts, Director of the J. Getty Paul Getty Museum, for the POP ÜBER ALLES Show at the L.A. Art Association/Gallery 825 and was featured by Mat Gleason in the Coagula Curatorial Video Lounge at Art Basel in Miami in 2014. Leighton's first solo show, Opening Up was held in 2013 at WAAS Gallery in Dallas. His next solo show, Permission To Enter, will be held on October 17, 2015 at the L.A. Art Association/Gallery 825 in Los Angeles. Daniel Leighton is a featured blogger for The Huffington Post. Visit www.danielleighton.com for more information. #danielleighton Facebook.com/DanielLeightonArtist | Twitter: DanielLeighton | Instagram: DanielLeightonArt Visit www.danielleighton.com for more information.
ABOUT APPLE
Apple designs Macs and professional software, leads the digital music revolution with its iPods and iTunes online store, reinvented the mobile phone with its revolutionary iPhone and App Store, and is defining the future of mobile media and computing devices with iPad. The company recently launched the "Start Something New" campaign which features art created using apple products. Art is being displayed both online and in-store (a first for Apple).